The Crogenitors are the protagonists of Darkspore. Their origin planet remains unknown. They have roamed the galaxy for eons, to the point that no planet was untouched by them, as they mutated creatures by genetic transfection, which they mastered enough to restructure life at molecular levels. Their unattended hubris led to Xylan's discovery of the unstable E-DNA, which led to the creation of Darkspore, a genetic nightmare beyond control, and the galaxy went under siege soon after The Darkspore began infecting planetary populations. If left unchecked, the Crogenitors' greatest mistake will soon prove to be the end of life as they knew it. They are highly advanced, capable of perfecting the device created by Zelem, that was meant to keep the remains of his home, Nakto, together. (Nakto is now called Zelem's Nexus for this reason)
One Crogenitor, awoken from a 1,000-year hypersleep aboard his ship by his supercomputer, was tasked with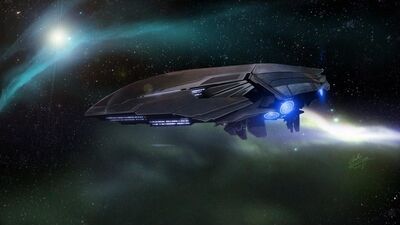 assembling an army of heroes, using stabilized
E-DNA
to grant them amazing powers and improve their abilities. This army forms the vast majority of the Crogenitor Insurgency, a large team led by the awoken Crogenitor to defeat the Darkspore.
Appearance and Traits
The Crogenitors are humanoid beings, covered in armor. All known Crogenitors wear masks and probably also some kind of breathing apparatus, implying that they can't really breathe the air on the planet they are currently on.
Crogenitors are technologically superior to all other races in existence (the Darkspore do not count). Therefore, they could create machines and mutagenic devices, such as the Shield Ring, Astra's mutagenic fungus, Ingto's "natural disaster spawner", Suzu's inventions, that he used to create the Cyber Heroes with, or Arcturus' cybernetic "solar sonds".
As seen in the case of the Destructors, Crogenitors possess a natural partial resistance to E-DNA, making them keep their own separate minds and personalities.
All Crogenitors lived in an order-like organization, which was supposedly led by the greatest genetic scientists in all of history.
Known Crogenitors
Normal Crogenitors
Other Crogenitors (based off of Cashout Loot)
NOTE: Merak and Zelem are not listed here, but they have their respective affixes in Cashout Loot.
Achird
Adhara
Alamak
Aldarar
Aldib
Alphard
Algorab
Alhena
Aludra
Amalek
Ananke
Ancha
Antares
Antheus
Ascella
Atik
Australe
Australis
Auva
Blip
Botein
Buit
Cajam
Canopus
Caph
Castra
Cebalrai
Chagash
Caitra
Cygnus
Daneon
Deimos
Delphinus
Diadem
Elnath
Erra
Ethamin
Furion
Gantar
Gieda
Gienna
Hajish
Hamal
Hemera
Hybris
Indus
Inoton
Ishtar
Izar
Kabrakan
Kylak
Lesath
Marphik
Menkar
Mira
Modara
Monoceros
Mura
Murzim
Myran
Nashak
Navamsha
Nexun
Nunki
Nyx
Oceanus
Oklob
Ophiuchus
Pavo
Perseia
Phaeton
Phoebe
Pollux
Prenana
Prinnia
Procyon
Rigel
Ruchba
Ryn
Sahka
Sarin
Segin
Serpens
Shukla
Spica
Sravana
Sol
Styx
Sukoba
Sulafat
Surjon
Syrma
Tamon
Tejat
Tolemi
Treta
Tyl
Unuk
Ursae
Vakra
Vela
Velorum
Voltari
Vorok
Wasat
Zaeto
Zejar
Zerak
Zosma
Known Members of the Crogenitor Insurgency
Creations of the Crogenitors
Trivia
Ad blocker interference detected!
Wikia is a free-to-use site that makes money from advertising. We have a modified experience for viewers using ad blockers

Wikia is not accessible if you've made further modifications. Remove the custom ad blocker rule(s) and the page will load as expected.