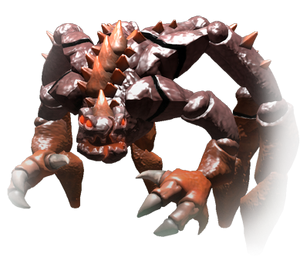 Ray Killers are Plasma Lieutenants, first encountered on Cryos. They were featured in the Ray Shot Template Challenge, in which they went under the name 'Ray Shot', a reference to their ability to fire powerful blasts of plasma.
Description
Ray Killers once were solemn, nocturnal hunters, whom the Darkspore turned into homicidal hench creatures.
Cunning and ruthless, Ray Killers unleash death in the form of plasma-bursts resembling miniature comets, one for each enemy who faces them. Those micro-comets can be dodged, but inflict terrible damage on those who fail to do so.
Location(s)
Onslaught
Invasion
Apocalypse
Strategy
A good hero to use in Revenant, who's squad ability Terrifying Curse can inflict a curse and terrify a Ray Killer from the other side of the screen before it is even aware of Revenant's presence. The terrified beast will scatter around aimlessly for a few seconds, during which it can be openly attacked.
Another good hero to use is Andromeda. Her squad ability, if used with proper timing, can redirect the Ray Killer's projectiles, causing them to hit the Ray Killers who had originally fired them. Her unique ability, Gravity Storm can also be very effective when fighting multiple Ray Killers, or a single one who is surrounded by other enemies.
Trivia