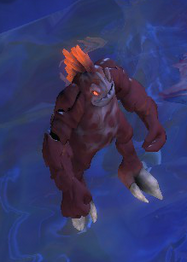 Electron Bursters
are
Plasma
Minions
that appear primarily on
Cryos
. Incredibly annoying in large groups, these tiny annoyances can become lethal very quickly, if not dealt with.
Lore
Electron Bursters don't have a lore, because they don't appear on the Darkspore website.
Strategy
Elites
. The Ghostly Affix can be ignored by
Goliath
though, as his basic attack is classed as an energy attack.
Trivia
There is also a special Elite version of this enemy, nicknamed "the Hamster Monster", only appearing if Electron Bursters are present on the level.
The Hamster Monster has Char's head.
At a glance, the Electron Burster is similar to Necro lieutenant Carrion Shambler with its armor removed.